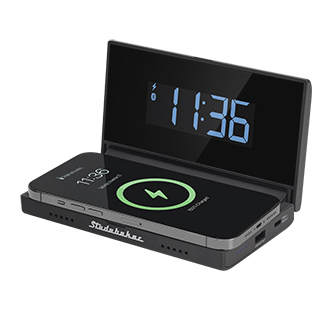 Right click and 'save link as…' to download hi-res images
SB3590B
TECHMATE Multi-Function Travel Companion
Introducing Techmate: Your Ultimate Travel Companion
Never worry about waking up in an unfamiliar setting again with Techmate, the ingenious combination of a digital time display and a powerful wireless charging power bank. Designed with the modern traveler in mind, Techmate seamlessly blends convenience and innovation to enhance your travel experience.
Wireless Time Display via Bluetooth: Bid farewell to the days of fumbling in the dark to check the time. Techmate's state-of-the-art digital time display syncs effortlessly with your smartphone through Bluetooth technology. Simply place your smartphone on the designated pad, and watch as the accurate time is projected onto the easy-to-read LED screen. No more searching for a clock radio or feeling uneasy about using unfamiliar devices in your temporary space.
Versatile Power Bank: Techmate isn't just a time display; it's also a robust power bank that ensures your devices stay charged throughout your journey. Boasting rapid wireless charging capabilities, this versatile device is your lifeline for keeping your smartphone, tablet, or any other Qi-enabled device powered up while you're on the move. Say goodbye to the hassle of searching for available outlets or carrying multiple chargers – Techmate has you covered.
Tailored for Travelers: Techmate is tailored specifically for globetrotters who value both function and style. Its sleek and compact design fits seamlessly into your travel essentials, making it the ideal companion for your adventures. No more compromising on your comfort and routine while on the road – set your alarm on your smartphone and wake up refreshed, knowing that Techmate has got your back.
Key Features:
Seamless Bluetooth synchronization for wireless time display
High-capacity power bank for rapid wireless charging on the go
Sleek, portable design perfect for travelers
Intuitive controls for effortless time setting and alarm management
Compatible with all Qi-enabled devices
LED screen with adjustable brightness for all lighting conditions
Elevate Your Travel Experience with Techmate: Join the ranks of savvy travelers who prioritize convenience and empowerment on their journeys. Techmate redefines how you stay connected and in control, providing you with the time you need and the power you crave, all in one remarkable package. Don't let unfamiliar surroundings disrupt your routine – embrace the future of travel with Techmate. Order yours today and embark on a new era of seamless exploration and connectivity.
BATS Bluetooth Synchronizing Clock
Wireless Charging (15W)
Bluetooth Receiver
LED Wireless Charging Status
LED 12 & 24 Hour Time Display
Power On/Off, Bluetooth and Time Dimmer Controls
Power Bank 10,000 mAH
LED Battery Level Indicators
LED Bluetooth Pairing Indication
1 USB-Out for External Charging
1 Type-C In/Out Port (Type C Charging Cable Included)
USB C PD Wall Charger (Included)
Specifications and/or features subject to change without notice