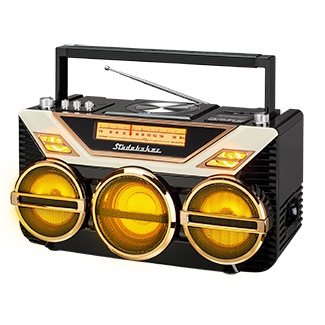 Right click and 'save link as…' to download hi-res images
SB2165B
Portable Avanti Stereo Boombox with Bluetooth/CD/FM Stereo Analog Radio/15W Subwoofer for High Power Bass
Pump up the bass with the Avanti Stereo Boombox from Studebaker. This boombox features a 15W Subwoofer for consistent high-power bass guaranteed to rattle your windows. Bluetooth Receive and Transmit functions allow you to stream music, podcasts, and other audio as well as use wireless headphones for private listening. Enjoy FM stereo analog radio with a back lit dial scale. This unit comes with a top loading CD Player that is CD/MP3 compatible with 20 programmable tracks for both the CD Player and USB playback (up to 32GB). Not only does the 3-Speaker system rock out, but the Amber LED light show synchronizes with the music to create a visual effect to please all your senses. Additional features include a 3-digit Red LED display, rotary volume controls and bass/treble functions, aux-in, headphone and DC jacks, as well as a FM rotary antenna. Best of all, the built-in rechargeable battery guarantees you won't be spending or searching for replacement power ever again.
Bluetooth Receive and Transmit
Top loading CD Player
20 programmable tracks for the CD/MP3 player and USB playback
15W Subwoofer for High Power Bass*
Power Output: 8W RMS @ 10% THD x 2 + 15W
3-speaker system
USB Port for playback (supports USB thumb drive up to 32GB)
FM stereo analog radio with back lit dial scale
3-digit Red LED display
Rotary Volume Control
Bass and Treble function
FM rotary antenna
Aux-in jack
Headphone jack
DC jack
Amber LED light effect synchronizes with music on 5 speakers
Built-in rechargeable battery
External AC adaptor
Since the subwoofer speaker generates its heavy bass from an air cylinder internal system, the bass will be much heavier when designed with the port on the side of the unit rather than the rear. Our electronics design team moved the air pump to the side of the unit from the back after a comparison of the data measured on the electroacoustic tester showed the side air pump to be louder than the rear air pump by about 3dB.  The pressure increase of 3db allows the output power of the horn to double the actual power of the woofer for maximum bass performance.
Specifications and/or features subject to change without notice