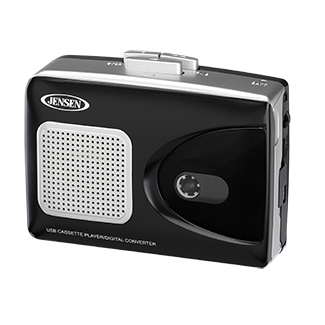 Right click and 'save link as…' to download hi-res images
SCR-90
Stereo USB Cassette Player with Encoding to Computer
The JENSEN® SCR-90 is a portable USB cassette player that allows you to convert your cassette tapes into digital music files for archiving or playback on your computer, your phone, iPod, or even in your car! This handheld USB device works with any cassette tape and features a built-in speaker for convenient listening without earbuds.
The unit features a USB connector and includes a cable for attaching it to your computer. Once connected to your MAC or PC, the included software transfers the music playing right onto your computer where it's converted into a digital music file. The file can then be saved in MP3 format for easy playback on another device. The SCR-90 also includes a headphone jack and operates using either USB power, two AA batteries (not included) or with an AC adaptor (not included).
Reconnect with the music you love or preserve those classic tapes and custom mix tapes by converting them with the JENSEN SCR-90.
Play, Fast Forward and Stop
Auto stop
Stereo Headphone Jack
Transfer Music from Cassette to Computer via USB Connection.
Convert Music into MP3 Format by Software Included
Built-in Speaker
Power: Through USB or 2 x 'AA' (UM-3) (Not Included)
120V AC Adaptor (Not included)
Specifications and/or features subject to change without notice