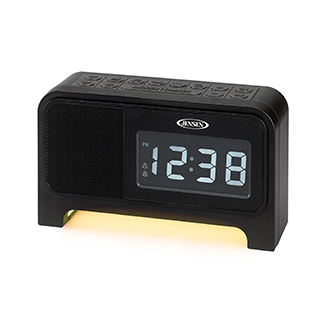 Right click and 'save link as…' to download hi-res images
JCR-350
Soothing Sounds Digital Clock Radio with Night Light
Listen to gently crashing waves, the sounds of a summer night with crickets and wind calmly blowing through the trees, or to one of the other soothing sounds available on the JENSEN® JCR-350 Digital Dual Alarm Clock Radio.
The unit offers 7 soothing nature sounds (Chirping Birds/Ocean/Summer Night/Waterfall/Thunderstorm/Campfire/Heartbeat) and White Noise that create a calm, peaceful relaxing atmosphere for sleeping or listening to while relaxing and escaping from the stresses of everyday life. All the sounds can be adjusted to fit the mood using the separate tone control.
The JCR-350 also includes a night light with 3 brightness settings that's perfect for providing a little extra warm ambient light in the room. Also featured is an easy-to-read 1" white LED display with 3 dimmer settings (including off), a digital FM radio and easy access top mounted controls. The alarm clock includes dual alarms with wake to alarm, radio or one of the available soothing sounds. The JCR-350 operates on 120V AC power and includes a battery back-up feature for saving the settings if the power goes out (battery not included).
Relax and get a good night's sleep with the JCR-350.
FM PLL/Digital Receiver with Preset
1" White LCD Display with Dimmer Control (High/Mid/Low/Off)
8 Soothing Sounds: 7 Nature Sounds (Chirping Birds/Ocean/Summer Night/
Waterfall/Thunderstorm/Campfire/Heartbeat) and 1 White Noise with Tone Control
Dual Alarm Clock
Snooze
Wake to Soothing Sounds, Radio or Alarm
Sleep Timer Function (Soothing Sounds or Radio) - 30/60/90 Minutes
Yellow LED Night Light with 4 lighting options (High/Mid/Low/OFF)
Power: 120V AC Adaptor
Battery Back-up for Clock: 1 x CR2032 Lithium Battery (Not included)
Specifications and/or features subject to change without notice