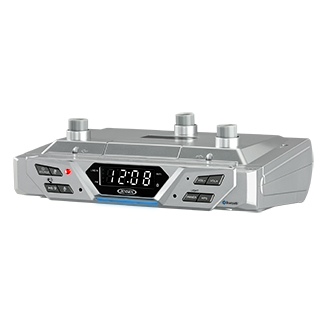 Right click and 'save link as…' to download hi-res images
JAS-725
Under Cabinet Bluetooth Music System with Alexa Far-field and Tap to Talk
The JENSEN® JAS-725 is an Alexa-enabled Wi-Fi/Bluetooth stereo music system powered by the Alexa voice service. It's the perfect space saving under cabinet design that features hands-free convenience with far field voice-control to play music, provide information, news, sports scores, weather, and more… instantly. All you have to do is Ask. Far-field voice recognition allows the JAS-725 to hear you from across the room and give you hands-free voice control, even while music is playing. Just say "Alexa" and play music, control your smart home devices, get answers to questions, set calendars, or get weather, news updates and more.
The JAS-725 is also Bluetooth-enabled, so you can stream music directly from your phone or tablet, or connect directly using the auxiliary input jack. The hands-free speakerphone with built-in microphone is great for multitasking on your Bluetooth-enabled phone.
The JAS-725 also includes a built-in 4 x LED work area light and operates on 120VAC, so it's ideal for the kitchen, and can be mounted easily anywhere with under cabinet mount included.
Space-Saving Under Cabinet Design
Allows Hands-Free Convenience with Voice-Control
Integrates with the Alexa Voice Service to Play Music, Provide Information, News, Sports Scores, Weather, and More - Instantly, All you have to do is ask
Hears You From Across the Room with Far-Field Voice Recognition, even While Music is Playing
Stream Music from Popular Online Services like Amazon Music, Tune In and More
Use the Alexa Voice Service when Connected to Wi-Fi or a Mobile Hotspot to Play Music,
Read the News, Provide Weather Reports or even Set a Cooking Timer
Works with Wi-Fi Smart Home Devices, so Control your Lamps, Timers or other
Compatible Devices
Bluetooth-Enabled so you can Stream Music from your Phone or Tablet
Hands-Free Speakerphone with Built-In Microphone for your Bluetooth Enabled Phone
Multi-Function White Led Display with Clock
Digital Volume Control
Built-In 4 x LED Work Area Light
Auxiliary Input Jack for Connecting your iPod®, MP3 or other Digital Audio Players
Built-In Stereo Speakers
Mounting Hardware (included)
Power: 120V AC Adaptor (included)
Specifications and/or features subject to change without notice